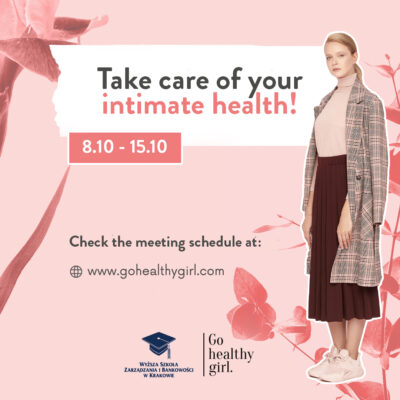 From October 8 to October 15, women in Cracow can listen to lectures and benefit from free consultations with specialists in psychosexology, urogynecological physiotherapy, intimate health prevention and dietetics. Those meetings held in a cosy workshop space in Bonarka are the next edition of the Go Healthy Girl campaign, which aims to normalise the prevention of women's intimate health. It is the fourth time that the School of Management and Banking in Cracow is a Partner of this initiative.
The campaign will be inaugurated on October 8 at 2PM and will be streamed online on Go Healthy Girl and Bonarka's social media. It will begin with a Q and A session featuring guest speakers, such as the clinical nutritionist doctor Krystyna Pogon (co-owner of Dietific) and Karolina Majewska CMO at AILIS Breast Cancer Prediction Technology. The inauguration session will be moderated by Karolina Sztyler, the President of the Admoveri Foundation and the organiser of the Go Healthy Girl campaign. Additionally, during the event you will be able to meet bloggers and online educators from Cracow. Some events will be streamed online or held as a webinar.
Along with Go Healthy Girl, the upcoming weekend we will be reminding our female students about preventive medical check-ups. There will be a plethora of pink giveaways.
Link to event: https://www.facebook.com/events/281103817178122/
Link to the meeting schedule: https://www.gohealthygirl.com/