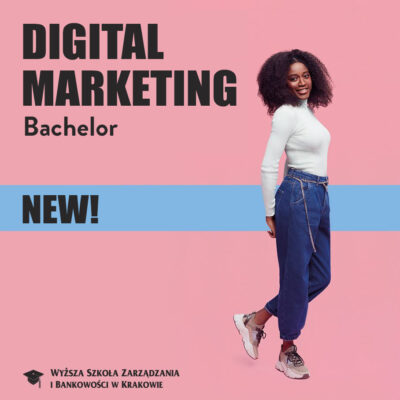 On May 13, 2022, the Minister of Education and Science issued a permit to create a new course at WSZIB in Krakow – Digital Marketing !
This is another unique position in the offer of our University.
If you are interested in social media, you want to learn how to influence trends in consumer choices and decisions in a modern and digital way, or finally use influence marketing tools to create a brand image – these studies are for you!
Digital marketing is a course packed with news from the world of branding and influencing. The study program is prepared so that the graduate is ready to work in a digital environment and with the use of modern ITC tools.
Our proposal is based on two educational paths:
Digital technologies in marketing is a module that prepares a graduate to work with the latest IT solutions in the field of promotion, influencing and shaping purchase decisions.
Marketing and social media is a path of education for enthusiasts of new media and innovative methods of marketing communication – here we will present you the secrets of knowledge related to exerting influence through social media.
We are perfectly prepared for teaching in this field, because we have over a dozen of air-conditioned computer laboratories, which we have equipped with the most modern hardware and software – come and check us out! The study program was prepared in cooperation with recognized agencies operating in the digital marketing and social media industries.
Choose your studies wisely and check the University and the program of classes – visit the recruitment department, and we will answer all your questions and we will gladly allow you to look round our teaching facilities!