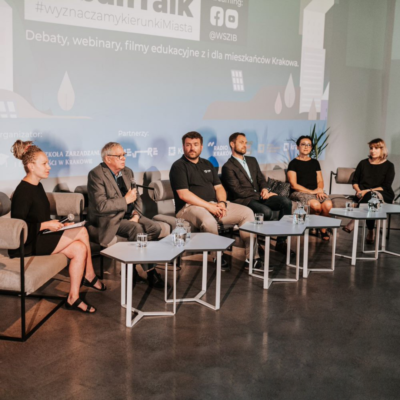 On June 24, the first debate of the UrbanTalk #definedirections of the City initiative entitled "Social Urbanism – an integrated plan for urban development" took place in Hevre. Amongst the speakers there were: Włodzimierz Roszczynialski, BEng, PhD, DSc, ProfTiT – the Rector of the School of Management and Banking, Monika Bogdanowska, PhD, DSc – The Lesser Poland Voivodeship Conservator of Monuments, Edyta Kruk – Member of the City Council (Councillor of District I Stare Miasto), Robert Piaskowski – The Representative of the Mayor of the City of Cracow for Culture, Łukasz Franek – the Director of the Public Transport Authority in Cracow. The debate was moderated by Izabela Chyłek, the activist from Cracow.
Among the things discussed during the meeting, there were topics related to the impact of the pandemic on the habits of Cracow residents. Łukasz Franek, General Director of the Public Transport Authority in Cracow, broached this subject, emphasising the significant increase in the number of cars on the streets of the city. What explains this phenomenon is the residents' fear of taking public transportation and associating public transportation with a crowded and unsanitary place. This caused much concern during the Covid-19 pandemic. The Public Transport Authority was also asked questions about bicycle stations, that the city residents have been trying to get for a long time. This topic is also very important to our student community.
For coverage of the event, visit www.wszib.edu.pl/urbantalk/debaty/.
Those who could not watch the meeting online are invited to the WSZIB Youtube channel – link to the recording: