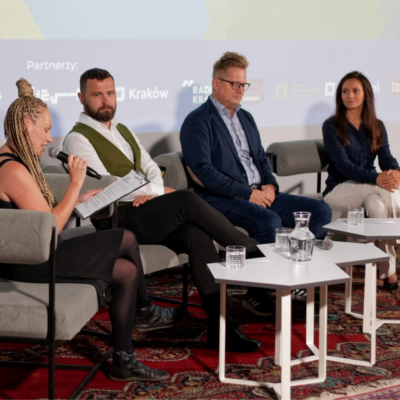 Thursday, September 16, 2021. Another debate organised by the School of Management and Banking took place in Hevre, as a part of the Urban Talk series. It was entitled: Cracow – a green city? The meeting was attended by Tomasz Urynowicz – a councillor of the Lesser Poland Voivodship, Piotr Kempf – the Director of the Board of Urban Greenery, Paweł Ścigalski – the Representative of the Mayor of the City of Krakow for the issues related to air quality. Ewa Lutomska – Vice-President of the Krakow Smog Alarm group and Edyta Kruk – Chairwoman of the Education Committee, Councillor of the District I Stare Miasto. The meeting was moderated by the project ambassador, Cracovian activist Izabela Chyłek.
The guests of the meeting raised issues related to air quality, urban greenery and public transport in Cracow. The experts recapped current efforts and defined the future ones aiming at improving air quality, discussed the impact of access to green space on residents' lives and the city environment, and explored possible suggestions for alternative transportation options.
For coverage of the event, visit www.wszib.edu.pl/urbantalk/debaty/.