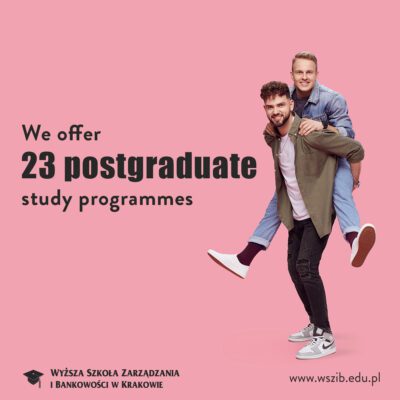 We offer 23 postgraduate study programmes for higher education diploma holders. It is a simple path to boost your qualifications, develop your current skills and gain new areas of expertise. As a part of our study programme, our team of practitioners provides students with specialised, yet practical knowledge from a given field!
Our offer includes 23 study programmes from the fields of:
Computer Science,
Management,
Human Resource Management,
Finance and Law,
Healthcare.
Invest in yourself and boost your chances on the job market!
The enrolment for postgraduate study programmes is underway!
Fill out the online form and enrol to a study programme online via the following website: https://www.wszib.edu.pl/rekrutacja/. Then, at a convenient time, visit our WSZiB Admissions Office in Cracow at al. Kijowska 14 (1st floor).