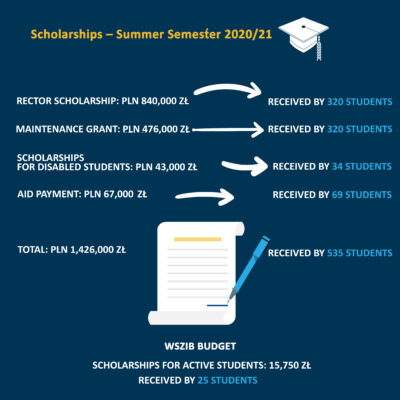 Did you know that…
This semester, 535 WSZiB students receive scholarships to cover all or a part of their tuition fees. With a maintenance grant that currently amounts to PLN 830 to 870 per month, studying for free is possible!
There is also the Rector's scholarship, awarded to the best students. In case of most study programmes, it exceeds the tuition fee. Students with the highest grade point average in their study programme receive a scholarship of PLN 530 per month.
Students with excellent academic, artistic or sport achievements, as well as last year's secondary school graduates being laureates/finalists of school olympiads receive the Rector's scholarship of PLN 795 per month. It is worth noting that the students can receive the Rector's scholarship alongside the maintenance grant and other forms of financial aid for students. All things considered, it is a monthly cash injection of nearly 1500 PLN. Regardless of the scholarships that are granted each semester, students who found themselves in a difficult life situation can receive emergency support – a one-off aid payment of up to 1500 PLN.
But there's more. Enterprising students involved in WSZiB initiatives are rewarded by the Rector with a scholarship for active students in the amount of up to PLN 900 per semester.
More about the scholarships can be found HERE.