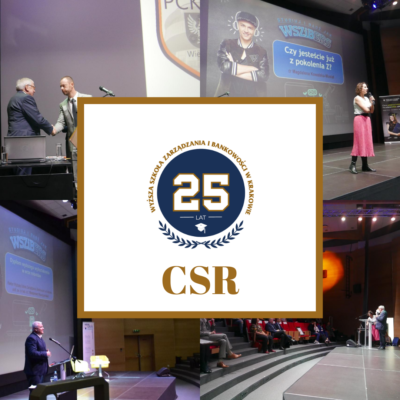 Several years ago, Corporate Social Responsibility (CSR) became one of the elements of building mission and strategy of a modern organization. For this reason, the SMB has been working on behalf of the socio-economic environment since its foundation.
One of the manifestations of our CSR activities is a long-term program to support schools as well as non-profit organizations. As a school that educates social and technical majors, we implement this program in two phases.
First, we try to help schools with their infrastructure needs. The result of this activity is the donation of computer kits including software. This activity makes it possible to start computer labs in the schools we support! In the course of several years of cooperation we have donated 269 computer sets including software to 24 schools or non-profit organizations. The total amount of support provided by our university over the past 10 years is 932 thousand PLN!
The second area of support for high schools in Małopolska is the involvement of our research and teaching staff in educational activities. We conduct lessons for students – especially in the area of entrepreneurship, management, or contemporary economic issues.
As a school, we believe that CSR cannot be an ad hoc activity. CSR must be an important part of the strategy and an idea embedded in the mission!