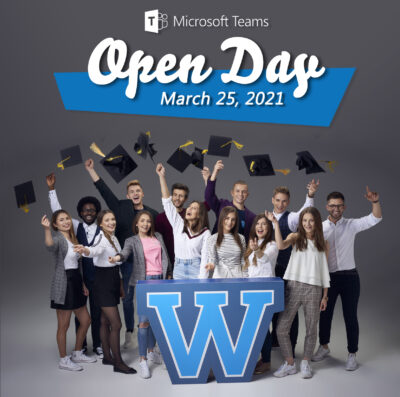 On March 25, 2021 the Open Day of the School of Management and Banking in Cracow took place. The event was held online via MS Teams platform.
As every year, there was an opportunity to familiarise yourself with the educational offer of the School. This year, you could take a virtual walk around the School.
We prepared 14 lectures held by our lecturers and guest lecturers. They were:
Magdalena Knapik-Woch
Bet on Yourself – how to create an effective CV?
"Good first impression can be made only once" – job interview behind the scenes.
"Start with yourself! Get to know yourself! Discover what floats your professional boat."
Magdalena Kowalska-Musiał, PhD
Are you a hero? Tell your story according to J. Campbell's schema.
Charismatic entrepreneur – are desires good for business?
Beauty in building the brand image – the golden ratio rule.
Justyna Michniak-Szladerba, PhD
Spread Your Wings. Personal Development Workshop.
Managing yourself over time.
Piotr Ziarkowski, PhD
The evolution of accounting – from ancient to modern times.
Compliance in an enterprise – fashion or necessity?
Study group "Batna"
Get to know yourself. 4 personality types.
Jacobs staff/students – Maciej Bodziony, Ida Krakowiak, Paweł Orzech
How to combine your studies with a corporate job? Dual study programmes at WSZiB
Dominika Woźny, BEng, PhD
How to prepare for public speaking?
Karolina Sztyler, MA
What can you do to get a job in advertising?
Online consultations were also held:
Erasmus + Programme – Agnieszka Nowak, BEng, MSc
Computer Science at the WSZiB – Karol Hryc, BEng
Enrolment for study programmes – Katarzyna Szycik, MA, Ewa Godlewska, MA
WSZiB Student Government Activities/Finance and Accounting at WSZiB – Kacper Inglot
Scholarships at WSZiB – Karolina Cygan, BA
Job-matching assistance / Student Promotional Network – Agnieszka Cepielik
500 people attended the event. Thank you very much for such lively interest.