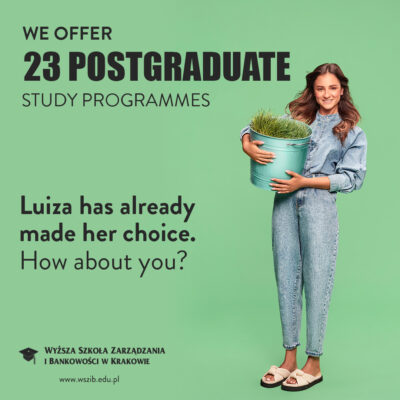 We invite you to join our postgraduate programmes at WSZiB, which are addressed to those who hold a higher education degree. It is a simple way to upgrade your qualifications, develop the acquired skills and gain new areas of expertise. The programmes provide students with specialised yet practical knowledge in their field of study. Our School is distinguished by an excellent team of practitioners and researchers who share their knowledge and experience.
We have developed as many as 23 study programmes in IT, management, finance and health care.
Invest in yourself and increase your opportunities on the job market!
Fill out the declaration online and register for study programmes now: https://www.wszib.edu.pl/rekrutacja/, and then visit the Admissions Office of the WSZiB at al. Kijowska 14 (first floor).