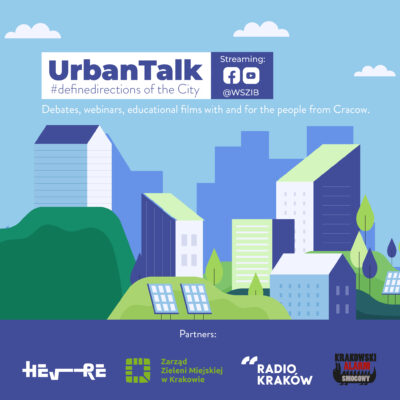 UrbanTalk #definedirections of the City is a series of events held by our school dedicated to ecology and issues related to the city life. The purpose of the meetings is to engage the local community in a debate about the direction of the city development and its impact on everyday life.
The #UrbanTalk initiative includes debates, webinars, film screenings, and educational meetings with and for the people from Cracow. The initiative also involves schools, companies and institutions from Cracow that are concerned with the issue of ecology.
Partners of the event include the City of Cracow, Board of Urban Greenery, Hevre, Cracow Smog Alarm, Radio Krakow.
The topic of the next debate taking place on the 24/06 at 7.00:
Social urbanism – an integrated project of urban development.
The list of meeting topics:
– heritage preservation vs. urban development,
– improving public transportation system,
– business or tourism,
– space for residents.
Debate guests:
Łukasz Franek – General Director of ZTP (regional public transport authority) in Cracow,
Robert Piaskowski – Representative of the Mayor of Cracow in the field of Culture,
Edyta Kruk – Chairperson of the Education Committee, Councillor of District I called "Stare Miasto",
Monika Bogdanowska, PhD, DSc – Monuments Restorer' for Lesser Poland Voivodeship,
Izabela Chyłek – Culture animator, city activist, discussion moderator,
Włodzimierz Roszczynialski, BEng, PhD, DSc, ProfTit – Rector of the WSZiB
You can find more information about #UrbanTalk if you look at our Facebook event!
A complete schedule of events will be announced soon.
If you would like to participate in creating green space at WSZIB email us: kariery@wszib.edu.pl.