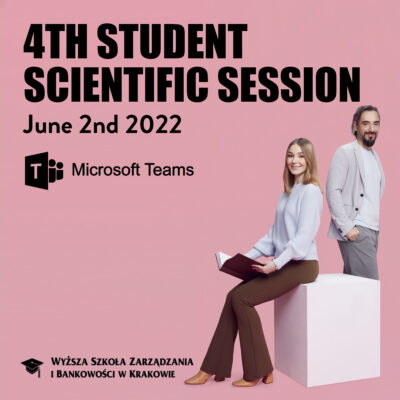 On June 2, 2022, the 4th Student Scientific Session of WSZiB took place. The session was attended by over 60 people, including lecturers, tutors of Scientific Circles operating at WSZiB and students – members of Scientific Circles.  The session was opened by the Dean of the Faculty of Management, Finance and IT, WSZiB Prof. Bartosz Banduła, Ph.D., and the Rector's Representative for Scientific Circles Justyna Michniak-Szladerba, Ph.D.
As experts – practitioners, we hosted:
Bartosz Bielewicz, manager at Ernst & Young Audyt Polska
Magdalena Knapik-Woch, career advisor and career designer
Jakub Rynduch, president of EFI Krakowska
Anna Witek-Pietroń, head of A. Witek company in Witek Home
7 lectures were delivered, including one from the University of Economics in Krakow.
Session participants have the opportunity to prepare a scientific article based on their lecture and experts' suggestions. After receiving a positive review, the articles will be published in a special edition of the WSZiB Scientific Journal (articles should be sent to j.michniak@wszib.edu.pl by July 1, 2022).
Moreover, the editors of the Multis Multum magazine will select lectures whose subject will be relevant to the subject of the upcoming edition and will contact their authors to propose a publication.
The thematic scope of this year's lectures was very wide – from finance, through management, to marketing. Students discussed current and important topics. Noteworthy is the high level of insight and research curiosity of the Speakers.
Thank you for your participation and interest.